Waterton Biosphere Reserve Association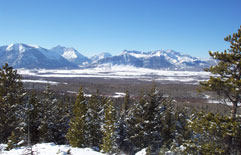 Photo by Kim Pearson/NCC
The Waterton Biosphere Reserve Association [WBRA] is a non-profit organization focused on linking biodiversity conservation to sustainable human use of resources in the region of the Waterton Biosphere Reserve. Established in the early 1980s, the association has worked closely with local people for over 30 years to integrate conservation values with traditional livelihoods.
WBRA objectives
To encourage a sustainable, community-based regional economy, with high quality biodiversity, landscape and social values.
To promote public awareness of resource management concerns facing residents of the Waterton Biosphere Reserve area.
To participate with area residents in developing projects to address local concerns.
To encourage cooperative resource management practices between private landowners and governments by providing a forum for the exchange of information.
In 2008, Environment Canada provided $5 million in funding to help support Canada's biosphere reserves. The Waterton Biosphere Reserve will receive a portion of this funding through 2013 to manage the Waterton Biosphere Reserve Coordination Project. The association will use these funds to advance biodiversity conservation, encourage sustainable development, and improve the capacity of local and regional communities to make sound decisions for conservation and sustainable resource use in the WBR area.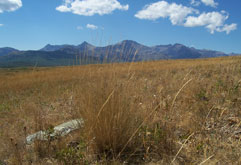 Photo by Kim Pearson/NCC
One of the key objectives of the WBRA in the coming years is to continue developing partnerships with other organizations in the region to address priority conservation and sustainability issues. During the last decade, several organizations in southern Alberta and northern Montana have become involved in initiatives that focus on biodiversity conservation and the sustainable land use management in the region. These organizations collectively represent excellent opportunities for potential partnerships and collaboration.
A member of the Canadian Biosphere Reserve Association [CBRA], along with 14 other biosphere reserves in Canada, WBRA will be charting a new course during 2010-2013 with the preparation of a cooperation plan and a closer look at zonation for the reserve. The cooperation plan will better define WBRA's role in the region, provide direction on the establishment of partnerships, and map out projects and strategies to address priority biodiversity and sustainability issues pertinent to the Waterton Biosphere Reserve area.
Banner image credit - Marion Foessel