Current Projects and Activities
Carnivores and Communities in the Waterton Biosphere Reserve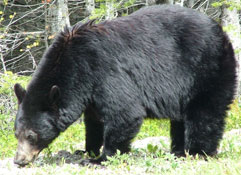 Photo by Parks Canada
Carnivores and Communities Program - Background
The Carnivores and Communities program was initiated by Waterton Biosphere Reserve (WBR) in 2009 in response to increasing conflicts between large carnivores and people in the agricultural lands of southwestern Alberta. Large carnivores like bears, wolves, and cougars are exciting to see and are an important part of biodiversity. However, they also pose risks and financial hardships to people who live and work around them.
When conflicts occur between humans and large carnivores, the impacts on landowners are diverse and can include depredation on livestock or pets, consumption and spoilage of grain, silage and field crops, damage to beehives, grain bins and farm buildings, and concern for the safety of family and neighbours. Conflicts between large carnivores and people living in southwestern Alberta impact both the livelihood of farmers and ranchers and the personal safety of all residents.
Carnivore-human conflicts may result in the death or relocation of the carnivore and therefore can impact biodiversity conservation as well. For example, grizzly bear management is of particular concern in southwestern Alberta. The area south of Highway 3 (Bear Management Area 6) has the highest rate of human-grizzly bear conflict and the highest rate of relocations and mortalities in the province. This is of concern not only for the local bear population, but also for the larger interconnected grizzly populations in Montana and southwestern British Columbia. Because of the levels of conflict and resulting mortalities, some consider these agricultural-interface lands as an ecological sink for the connected populations across provincial and international boundaries.
Stewarding land for large carnivores is a complex undertaking. The Carnivores and Communities program brings together landowners, land managers, and other local partners to help reduce human-carnivore conflicts in southwestern Alberta. Overall the aim of the program is to decrease conflicts with carnivores, enhance public safety, reduce the economic impact to agricultural producers resulting from sharing their land with large carnivores, work toward improving tolerance towards large carnivores, and ultimately achieve a balance between large carnivore conservation and agriculture in southwestern Alberta.
The Carnivores and Communities program includes or supports a number of collaborative initiatives that are described below.
Landowner Perceptions and Attitudes Towards Large Carnivores
The Carnivores and Communities program began with a survey of landowners in the southwestern corner of the province. The Miistakis Institute was commissioned by the Waterton Biosphere Reserve Association (WBRA) to develop and implement a landowner survey to better understand carnivore issues important to the community and values pertaining to large carnivores and their management. WBR held two public meetings in June of 2010 to share the results of the survey. The results indicated that residents were concerned about growing carnivore populations, the increasing frequency of conflicts with large carnivores, and the impacts of carnivores on local livelihoods and community safety. The frustration of local landowners was clearly expressed at the meetings. However, the survey also indicated that the majority of residents agreed that it was important to them to know that carnivore populations persist in the region; more than 70% agreed that people and large carnivores can successfully share a landscape if properly managed.
This willingness to consider a landscape shared with large carnivores is reflected in the actions of local communities. Inspired by work done in Montana at the Blackfoot Challenge (BCF), landowners, municipalities, and Environment and Sustainable Resources Development (ESRD) began in 2008 to undertake projects to reduce conflicts by managing carnivore attractants across southwestern Alberta.
Waterton Biosphere Reserve Carnivore Working Group (CWG)
The WBR was approached by ESRD in the fall of 2011 to coordinate and manage a grant to support community-based, landowner driven project initiatives to reduce human-carnivore conflict issues in southwestern Alberta, with a specific focus on grizzly bears, black bears and wolves. WBR established a Carnivore Working Group (CWG) to guide the project through March 2014. The CWG is composed primarily of livestock producers who represent the communities in the municipalities of Ranchland, Willow Creek, Pincher Creek and Cardston County and also includes representation from ESRD. The work of the CWG is coordinated by Jeff Bectell, local rancher and current Chair of the Waterton Biosphere Reserve Association (WBRA). The CWG terms of reference outlines an ambitious project including implementation of on-the-ground attractant management projects, development of community-shared goals for reducing human-carnivore conflict, and establishment of a long-term vision including cost-effective program policy or legislative recommendations. Two annual reports have been released detailing progress to January 2013 and to January 2014.
The CWG links with and enhances collaborative work already taking place in the region by landowners and groups including Drywood Yarrow Conservation Partnership (DYCP), Chief Mountain Landowners Information Network (CMLIN), Southwestern Alberta Conservation Partnership (SACP), the Nature Conservancy of Canada (NCC), Waterton Biosphere Reserve, Cardston County (CC) and the MD of Ranchland.
Reduction of Large Carnivore Attractants
Restricting access to attractants can significantly reduce carnivore-human conflicts. In southwestern Alberta, the primary agricultural attractants include dead livestock (deadstock), granaries, bee yards, and calving areas. In order to decrease conflicts with large carnivores, WBR provides support to activities designed to remove or reduce carnivore attractants from private lands. Current attractant management projects include removing dead livestock from the landscape, making grain and feed storage facilities more secure, and installing electric fencing to keep carnivores away from other attractants.
Photo by Nora Manners/WBR
Deadstock Pickup Program:
The practice of on-farm disposal for livestock that die on ranches, particularly during the spring calving season, can create an attractant to large carnivores. Bears, wolves, and cougars that are drawn to ranches because of carcass dumps or "bone-yards" may be tempted to kill live animals or find other food sources like grain or silage.

On-farm disposal of carcasses has increased since the discovery of bovine spongiform encephalopathy (BSE) in Alberta cattle in 2003. Prior to the discovery of BSE, rendering companies removed deadstock from livestock operations free of charge as the carcasses held commercial value to the rendering company. Post-BSE changes to regulations now require separate disposal of specified risk material (SRM), tissues that are capable of transmitting BSE. This has decreased the profitability for carcass rendering companies and livestock producers are now charged for carcass removal.
The deadstock pickup program has been designed to completely remove the livestock carcasses from the landscape and has grown, from a pilot project initiated by DYCP, to include programs in carnivore conflict areas in all four southwestern Alberta municipalities. The program began in 2009 with two predator-proof deadstock bins located on ranches in the DYCP project area. The following year, five additional bins were built, four hosted in Cardston County and one on NCC land in the MD of Pincher Creek. Two additional bins were built and placed in Cardston County in 2011.
Deadstock bins are fabricated of 14 gauge steel sheeting with a hinged lid for easy carcass disposal, and a drop end for bin unloading. The bins are placed on private property and are maintained on a regular basis by volunteer landowners. Registered landowners place deadstock in the bins (in accordance with Canadian Food Inspection Agency (CFIA) procedures) and the bins are emptied by a rendering company as required.
Deadstock pickup bins in the Waterton Biosphere Reserve
In addition to providing deadstock bins for rancher use, areas with a history of carnivore conflict have been delineated as deadstock pickup zones. Within these areas, deadstock pickup is provided free of charge at the farmyard for larger carcasses and for all carcasses in areas where there are no deadstock bins. The deadstock pickup zone began with the DYCP pilot area in 2009 and expanded to include the western portion of Cardston County and NCC conserved lands in 2010. In 2011, the MD of Ranchland initiated a farmyard pickup program for the entire municipality.
In 2013, the deadstock pickup zone was expanded again to include areas with a history of carnivore conflict within all four southwestern municipalities, the MDs of Ranchland, Willow Creek, Pincher Creek and Cardston County. The MD of Pincher Creek provided funds in 2013 for construction of three additional deadstock bins, bringing the total to twelve deadstock bins throughout southwestern Alberta. The program in Willow Creek began in the spring of 2013 with farmyard pickup only.
The deadstock pickup program has been managed by multiple organizations, including the DYCP, NCC, CMLIN, Cardston County, MD of Ranchland, and beginning in April 2013, the MD of Pincher Creek and MD of Willow Creek. Deadstock removal costs from 2009 through 2012 were approximately $28,000.00, funded by ESRD, Environment Canada, Shell Canada, and the MD of Ranchland. In addition to this, approximately $21,000.00 was spent by ESRD on construction of the original nine deadstock bins. The MD of Pincher Creek spent $10,000 on construction of the final three bins in 2013. Beginning in 2013 the deadstock program will be funded through the CWG with grant funds, primarily from ESRD with a smaller amount from Shell Canada. Other funds are currently being sought.
Deadstock Composting Facility:
In 2012, Cardston County partnered with ESRD and Growing Forward to build a carcass composting facility; the first municipal deadstock composting facility in Canada. The facilty is modelled after a successful carcass composting facility managed by the Blackfoot Challenge (BCF) in Montana as part of their carnivore attractant reduction program. Deadstock are placed on a bed of compost and woodchips. Unlike BFC's compost facility, the Cardston County composting site is enclosed in a 15 m x 37 m (50 ft. x 120 ft.) building. The carcasses are layered with more wood chips, kept moist, and turned. Within 2 months of achieving optimal temperatures (54 to 60°C; 130 to 140°F), mature stock are almost completely decomposed. Due to current CFIA regulations, all by-products must remain on site.
All deadstock from within Cardston County's designated pickup zone, both from deadstock bins and farmyards, are collected by the county rather than a rendering company. Operational costs for pickup and composting are currently paid through the CWG similar to other designated deadstock pickup areas. A cost-benefit analysis of composting versus rendering company pickup will be completed and if favorable, efforts may be made to expand composting within the other four municipalities.

Feed storage security:
Photo by Nora Manners/WBR
When given the opportunity, grizzly and black bears will eat grain, silage, honey producing hives, and other livestock feed. Once bears learn where these foods can be obtained, they will rip apart silage bags, bee yards, and wooden buildings, dig through wooden bin floors, or rip the doors off of steel bins to gain access. Grain bin retrofits such as bear-proof doors, steel or concrete bin floors, and installation of hopper bottoms can eliminate bear access. Hantech Engineering (Lethbridge, AB) was contracted in April of 2010 to design a prototype bear proof grain bin door based on ESRD and DYCP recommendations and several doors were fabricated by Haul All Equipment. With site specific modifications as necessary, the bear proof doors have successfully been installed on several grain bins to date.
For larger operations, electric fencing of grain, silage, and livestock feed storage areas as well as bee hives and calving areas, is a well-demonstrated deterrent to many large carnivores. Depending on the attractant, fencing can be installed as a permanent or temporary measure. Solar chargers can provide flexibility with fence location and/or reduce annual electricity fees.
WBR is currently preparing a report that will summarize community-based carnivore mitigation efforts from 2008 to 2012.
Revised Carnivore Compensation Program
Even with the implementation of attractant management efforts as discussed above, large carnivores will still sometimes kill livestock. While some loss is an acknowledged part of raising livestock, livestock losses to predators in southwestern Alberta represent a significant financial burden to producers. The Alberta Wildlife Predator Compensation Program attempts to ameliorate some of this burden, and equalize the cost of carnivore conservation between rural and urban populations by providing monetary compensation for cattle, sheep, bison, swine and goats injured or killed by wolves, grizzly bears, black bears, cougars and eagles.
During the 2009 landowner survey, compensation for livestock losses to large carnivores was an issue highlighted by landowners and dissatisfaction with the current predator compensation program was identified. At that time a review of compensation programs was completed by the Miistakis Institute. Dissatisfaction seemed to stem from three major areas; the community felt that the burden of proof (to confirm that an animal was killed by a carnivore) was too high, compensation payments were too low, and the working relationship between Fish and Wildlife Officers and landowners was not strong.
After further discussion with producers, the CWG initiated a project in 2012 to expand the review of compensation programs and to develop a proposal for a revised carnivore compensation program for southwestern Alberta. The project resulted in two reports Report 1: Summary of Carnivore Compensation Programs and Report 2: Proposed Amendments to the Alberta Wildlife Predator Compensation Program.
The recommendations contained in Report 2 have come about through much discussion and consideration. If implemented, the recommendations will provide a much more fair and acceptable level of compensation to livestock producers who share the landscape with large carnivores. Recommendations include the application of a multiplier to the amount of compensation paid on confirmed livestock losses, additional compensation for probable kills, breeding livestock, guard animals, and purebred livestock; a review of the criteria employed for identifying probable kills; the development and delivery of a verification course for livestock producers; and an annual evaluation of any pilot and/or compensation program. In January of 2013, the CWG submitted the two reports to the Alberta Government and has requested the opportunity to discuss how the proposed changes can be implemented on a pilot basis within the municipalities of Ranchland, Willow Creek, Pincher Creek and Cardston.
Cowboys and Carnivores: Landowner Carnivore Monitoring Pilot
The DYCP worked with the Miistakis Institute to develop a carnivore monitoring program so that landowners within the pilot area could report their observations and conflicts with carnivores using an on-line mapping tool Cowboys and Carnivores. The pilot project ended in 2012.
Community Oriented Wolf Strategy (COWS)
The Municipal District of Ranchland is currently completing a 3 year Community Oriented Wolf Strategy (COWS) project funded under a $235K Rural Community Adaptation Program grant. The project seeks to "complete a science based and community driven pilot of frontline methods and strategies to sustainably manage wolf-cattle interactions in the Municipal District." COWS employs a project biologist and other staff who work to reduce wolf-livestock interaction and conflict. Initiatives include increased messaging on deadstock removal (which is funded by the MD of Ranchlands), range riders, trail cameras, and tracking/locating of wolf packs.
Southwest Alberta Grizzly Bear Monitoring Project
In 2011, in conjunction with Parks Canada, Alberta Tourism, Parks, and Recreation – Parks Division, and the University of Alberta, ESRD initiated the Southwest Alberta Grizzly Bear Monitoring Project (GMP). The project analyses DNA extracted from bear hair samples collected from rub objects. This non-invasive method provides significant cost savings over traditional monitoring methods (i.e. radiocollaring), is safe for personnel and wildlife, and provides a cost-effective long-term monitoring solution. The monitoring effort is capable of measuring bear population regionally, as well as variations in bear density and space use at finer scales.
The project began on public lands in 2011. During 2012, WBRA CWG worked with landowners and GMP Coordinator, Andrea Morehouse, to expand the project onto private lands throughout the remainder of Bear Management Area 6 (south of Highway 3) and extending into grizzly habitat further east. Sixty percent of BMA6 is privately owned and landowners have been highly engaged in identifying rub object locations and providing incidental collections of bear hair. An update of progress to the end of the 2013 field season can be found on our website. The 2014 field season will mark the end of field work for the project. Interim results and updates can be found on the GMP website.
It is hoped that this project will result in an accurate and locally supported population estimate on which to base management decisions.
Non-invasive Monitoring of Wolves in Southwest Alberta
A wolf monitoring study is currently underway in southwestern Alberta. ESRD is collaborating with the University of Montana through Montana's Cooperative Wildlife Research Unit (MCWRU) to develop a cost-effective monitoring approach for wolves throughout southwestern Alberta. The MCWRU has conducted similar work on gray wolves in Montana and Idaho with good results. The goal of this monitoring project is to enhance knowledge of where wolves occur on the landscape (distribution), understand how many packs use southwestern Alberta on an annual / seasonal basis, and provide a framework to annually estimate overall wolf population size within the study area. An update of progress to the end of 2013 as well as more detailed progress reports for both 2013 and 2014 can be found on our website.
Field crews will be surveying for wolves throughout southwestern Alberta during the summers of 2012-2014 from primarily the Highwood River south to the Montana Border (may extend to Hwy 1). Surveys will be conducted on public Forest Reserve and grazing lease lands in predicted suitable habitat for wolves. WBR CWG will be promoting participation of landowner/leaseholders in this project.
Summary of Carnivore Conflicts in Southwestern Alberta
In an effort to begin to understand the spatial and temporal patterns of carnivore conflicts in southwestern Alberta, the past 13 (1999-2012) years of enforcement occurrence reports for grizzly bears, black bears, wolves, and cougars were analyzed and summarized. This work was a collaborative effort between the Fish and Wildlife Division of Alberta Sustainable Resource Development (ASRD), including Enforcement Field Services (now with Solicitor General), and the WBR CWG. Carnivore Conflicts in Southwestern Alberta summarizes the number and types of reported conflicts for each species, maps all conflicts to identify areas on the landscape with the greatest number of conflicts historically, and maps conflicts by species/year to understand how conflict distribution has changed over time.

This report will provide a baseline framework against which the efficacy of any new mitigation programs can be measured. It is also hoped that by understanding the factors influencing conflicts and the spatial and temporal patterning of those conflicts, we will be better able to implement efforts to reduce conflicts and allocate resources where they will have the most impact.

Contact the Carnivore Working Group
If you would like more information about any of these initiatives, please follow the links provided or contact us at info (at) watertonbiosphere.com.

South West Alberta Cooperative Weed Management Area
by David Musto, Waterton Lakes National Park
Background
Non-native invasive plants (NNIP) are impacting natural ecosystems and economies worldwide. Time and again, it has been demonstrated that NNIPs are a transboundary problem that require cooperative solutions. The need for a cooperative approach has led to the establishment of Cooperative Weed Management Areas or CWMAs.

What is a CWMA?
A Cooperative Weed Management Area (CWMA) is a partnership of local agencies, individuals, and interest groups that work together in many ways to manage noxious weeds or invasive plants in a defined area. CWMAs are growing in popularity because they:
Improve relationships at the grass roots level between state, local, and federal agencies, members of the public and private groups.
Provide a way for groups with the common goal of controlling weeds to help each other get their jobs done in a more effective and coordinated manner.
Allow local weed management issues to be brought to the state and federal levels.
Increase local and statewide awareness of weed related issues across a broad cross section of the public.
A Cooperative Weed Management Area in South West Alberta
In 2009, a group of neighbours in the heart of Chinook Country met while their common adversaries slept under a white winter landscape. Their common weedy foes - knapweed, leafy spurge, blueweed and a host of others ... pose a threat to the lands under the care of the cooperative members … lands which all persons in southern Alberta enjoy and benefit from. These are our agricultural lands, rangelands, parks, and for many - ancestral lands.

Since then, members have continued to work towards formalizing the South West Alberta Cooperative Weed Management Area (SWACWMA). Signatories to the cooperative are the agricultural fieldmen from Cardston County and the Municipal District of Pincher Creek, environmental protection staff from Blood Tribe Land Management, Waterton Lakes National Park resource conservation staff, Nature Conservancy of Canada biologists, and the park ecologist of the south management area of Alberta Tourism, Parks and Recreation. Support for the initiative has also come from the Waterton Biosphere Reserve Association, Glacier National Park, Castle Crown Wilderness Coalition and local ranchers and other landowners.

It isn't a new idea – this coming together to share knowledge and resources related to improving the health of the land - but this initiative is attracting some new faces as well as strengthening existing relationships and affirming a commitment to make a positive difference. All partners understand that the group will be adaptable and evolve as need and resources allow. Within this cooperative the neighbours will continue to share knowledge, resources and occasionally manpower, thereby being better prepared to deal with their weed control.

Numerous cooperative weed pulls have occurred over the past few years - there is strength in numbers. As all in the business know it is a daunting task and much can be learned through working together. The SWACWMA members encourage cooperative relationships and active participation by other organizations and individuals. Building and strengthening local partnerships with neighbours is a vital step to achieving our common goals.

Waterton Biosphere Reserve Coordination Project
In 2008, Environment Canada provided funding to help support Canada's biosphere reserves. The Waterton Biosphere Reserve received a portion of this funding through June 2012 to manage the Waterton Biosphere Reserve Coordination Project. The association used these funds to advance biodiversity conservation, encourage sustainable development, and improve the capacity of local and regional communities to make sound decisions for conservation and sustainable resource use in the WBR area. The coordination project included the development of a cooperation plan which will guide the reserve's future work and direction, and map out activities which partners in the region consider to be a priority.
The Waterton Biosphere Reserve supports a variety of local initiatives. Some recent examples include:
Waterton Watershed Group: support for start up and a range health field day
Cardston County: support for weed management
Chief Mountain Cumulative Effects Study: support for report production
Banner image credit - Elk - Parks Canada • Bear - Parks Canada