Association History and Activities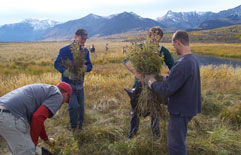 Photo by Kim Pearson/NCC
The Waterton Biosphere Association [WBA] was established in the early 1980s by staff of Waterton Lakes National Park and members of the local ranching community.
By the late 1980s, the WBA had established a management committee made up of ranchers and park staff, and a technical committee which was active until 1990. Recognition of the benefits of broader community involvement resulted in the establishment of the Crown of the Continent Society [1990-1992], bringing together more than 30 agencies and stakeholder groups in the Pincher Creek area.
The WBA continued to exist as an informal steering committee throughout the 1990s and early 2000s, when it was absorbed by larger scale initiatives by other organizations which strengthened the biosphere reserve functions over a broad area. The organization was revitalized as the Waterton Biosphere Reserve Association in 2009.
The Waterton Biosphere Reserve Association has facilitated and supported many projects over the years related to the conservation of biodiversity and sustainable development, including: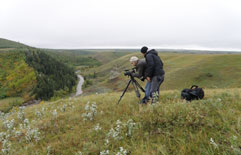 Photo by Nora Manners/WBR
Support for the Waterton Park Front Project , where ranchlands in the reserve that were under long-term development pressure opposed by many local landowners were secured by the Nature Conservancy of Canada (NCC). With support from The W. Garfield Weston Foundation and John and Barbara Poole and family, this collaboration resulted in the creation of one of the largest private conservation initiatives in Canadian history. Thanks to the vision of the Foundation, NCC, and the long-term commitment of area ranchers, more than 30,000 acres of this stunning landscape have now been protected as conservation lands. The Waterton Biosphere Reserve Association produced a short video outlining subdivision issues that was used to build support for the Waterton Park Front Project in its early stages. [1997-1998]
In cooperation with a variety of management agencies, the WBA designed a community based management and education program to control non-native species in the biosphere reserve. [1998]
WBA partnered with the Ecological Monitoring and Assessment Network in establishing community based monitoring networks in the communities of Pincher Creek and Brocket (Piikani Nation). [2002-2003]
WBA provided guidance and information in support of graduate student research projects in the Waterton Biosphere Reserve and the Crown of the Continent, many through the University of Montana and University of Calgary Transboundary Initiative.
The association has sponsored public seminars over the years at which information was exchanged on topics such as grazing lease conversion policies, elk/cattle interaction and haystack depredation, carnivore-livestock-human conflict issues, the control of spotted knapweed, local forestry research and mountain pine beetle outbreaks. [1982-present]
In partnership with Waterton Lakes National Park, the Waterton Biosphere Reserve has supported the Land Care Program in which students and teachers have explored different perspectives on land management in the biosphere reserve from an Aboriginal, rancher, and national park perspective. This program helps build mutual awareness and understanding of land use issues in the reserve area, and is an effective education-stewardship initiative, particularly for post-secondary students. [2004-present]
WBR supported the completion of a project by the Chinook Area Land Users Association [CALUA] to collect information on oil and gas leases in the Waterton Biosphere Reserve area to be shared with local landowners. [2009]
The association is currently involved with Carnivores and Communities in the Waterton Biosphere Reserve, which includes various carnivore-livestock-human conflict mitigation efforts, in partnership with the Drywood-Yarrow Conservation Partnership, Chief Mountain Landowner Information Network, Nature Conservancy of Canada, Chinook Area Land Users Association, and other local landowners. The Miistakis Institute for the Rockies, Alberta Fish and Wildlife, and Cardston County are also key partners. [2009-present]
WBRA works cooperatively with a number of Alberta organizations on the Southwest Alberta Cooperative Weed Management Area (see page 5), an initiative designed to control non-native plants that pose a threat to agriculture, rangeland, and parks in southwestern Alberta. WBR also sponsored a workshop to facilitate the formation of this group. [2009]
Alberta Invasive Plants Council newsletter article on the Southwest Alberta Cooperative Weed Management Area
Banner image credit - Rick West